Free WiFi in our parking lot.
https://www.cdc.gov/coronavirus/2019-ncov/about/index.html
 In response to the Safer at Home Order that prohibits all nonessential travel, with some exceptions, we are closed. The order will remain in effect until 8:00 a.m. on Friday, April 24, 2020, or until a superseding order is issued. Please continue monitoring this website for any new information pertaining to the reopening of the Cambridge Community Library.  Thank you for your cautionary efforts and stay healthy!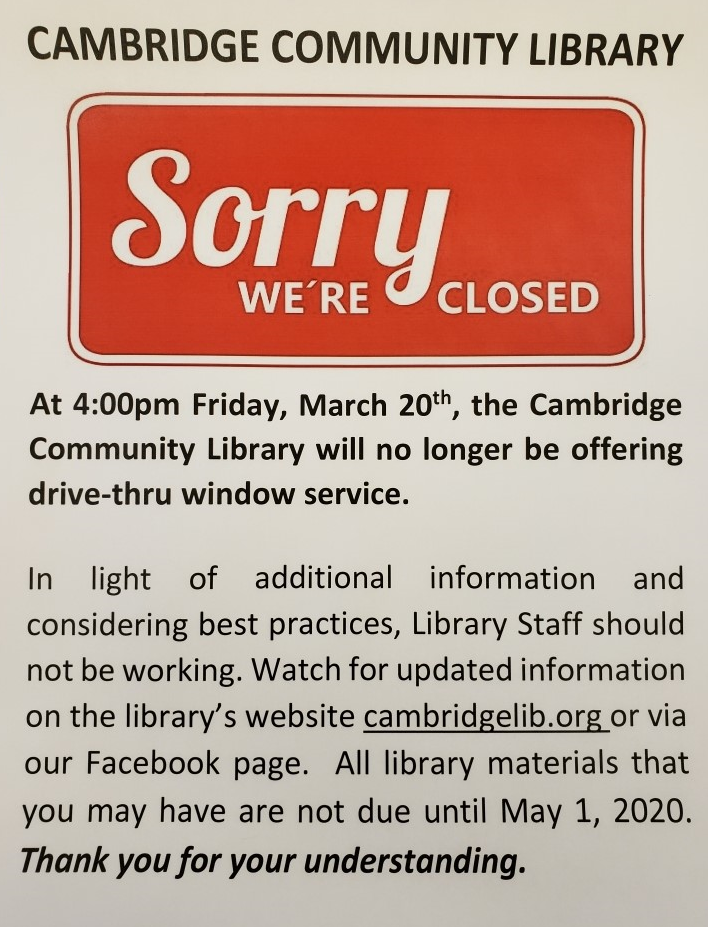 OverDrive Read is a browser-based eBook reader that works on most computers, tablets, and mobile devices running web browsers with HTML5 support.  This is available for Dane County residents with a Cambridge Community Library card. For Jefferson County residents, that hold a Cambridge Community Library card, please call the Library at 608-423-3900 for more information.
**************************************************************************************
Attention those filing for unemployment
Updated information as of 3/25/2020
Job center staff are unable to answer questions about specific unemployment benefits claims. Folks are encouraged to visit the unemployment website: 
https://dwd.wisconsin.gov/uiben/
, or call the toll free number 844-910-3661 (wait times may be long). 
Even though we can't help you in-person at the Library, we hope the above information is helpful.
2020 Story Times
Wednesdays and Fridays 9:30-10:15
Tentative Spring Session 4/15/20-5/22/20
********************************************************************************************************
Winter Emergency Opening and Closing Guidelines
The Cambridge Library determines their winter emergency opening and closing procedures by using the Cambridge School District's determination as a guide.

It is highly recommended that on any days the school is affected by the weather the library may be also. Please call the Cambridge Community Library (423-3900) before venturing out to the library whenever the school district is closed or opening late due to road conditions.

Safety first – if the weather man has highly suggested staying off the roads, please call to see if we are open.

If it is a story hour day (Wednesday or Friday) and there is no school or the buses run late, there will be no story time.

Your Library Staff thanks you for understanding the need to possibly open later or close early due to inclement weather.
LINKcat Mobile app
The LINKcat Mobile app vendor, LibraryThing, has added several fixes to the app that are designed to address the problems with accessing and using the app. If patrons continue to experience any issues with the app, have the patron clear the settings in the app (instructions below). The patron may have followed these steps in the past, but please ask them to run through clearing the settings one more time:
1. In the upper right hand corner, click the "hamburger" (either three lines or three dots) and select "Clear all settings."
2. Then click the "Clear" button to set the app back to "factory settings."
3. Then have the patron log into their account on the app again.
If patrons continue to experience problems with the LINKcat Mobile app, please have them report the following information:
1. Type of device used (ex. iPhone 7, Samsung Galaxy s8).
2. Operating system, including version (ex. iOS 13.3, Android 8.1.0).
3. Detailed description of the problem: For example, is the patron getting an error message? If so, what is the error message and when was it received (approximate time and date)? When does the patron get the error message (ex. when logging in, searching, etc.)? If there's no error message, what happens to prevent the patron from using the app? 
Patrons please note: You can go to www.linkcat.info or www.cambridgelib.org in a browser on your mobile device instead of using the mobile app. You may prefer this option.
Drive-Up Transaction Window Hours
Monday 9:00am-5:30pm
Tuesday 9:00am-7:30pm
Wednesday 9:00am-5:30pm
Thursday 9:00am-7:30pm
Friday 9:00am-4:30pm
Saturday 9:00am-12:30pm
-Dates and times subject to change.
-Drive-up return is open 24 hours.