Drive-thru hours only at this time. Thank you for your understanding. 
Mon. 11-4, Tue. 11-4, Wed. 11-4, Thur. 3:00-7:30, and Fri. 11-4
We will be open on Monday, 1/18/21. Visit the library and check out books about Martin Luther King Jr.!

Simply read a book from three of these categories by 3/20/21.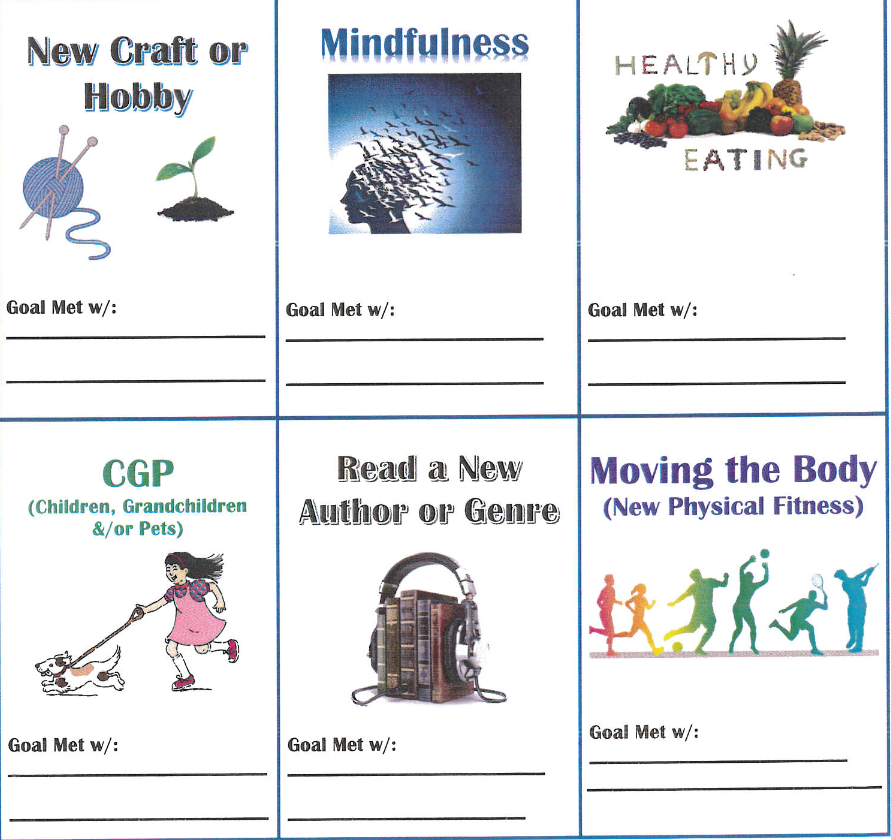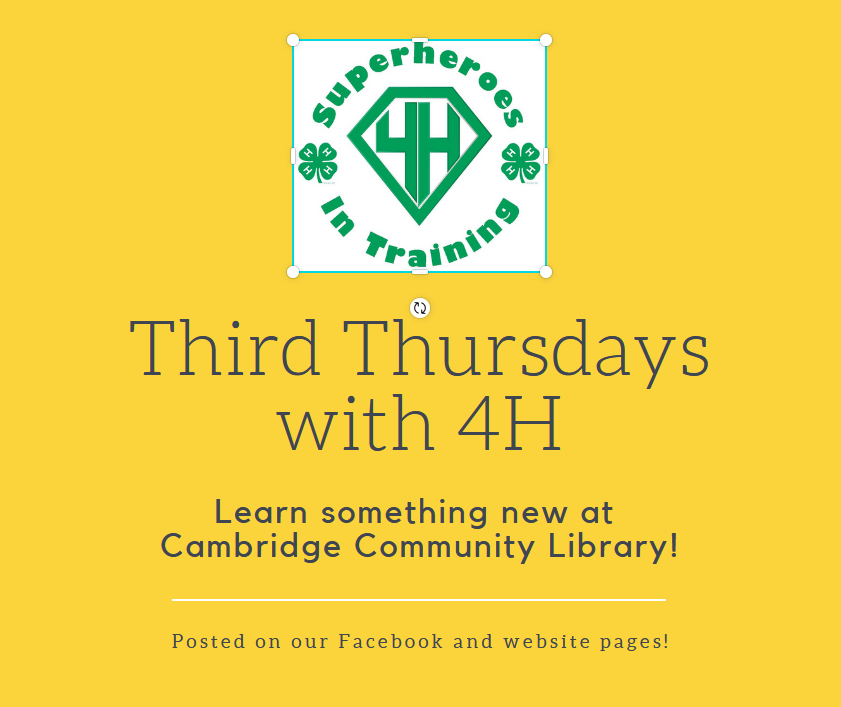 1/21/21 Tanner H.-Bike Repair
Tanner's demo. will be posted here and on our Facebook page. Questions for Tanner? Comment on Facebook post or email youthservices@cambridgelib.org.
Each month will focus on a different theme such as STEM, arts and crafts, animal care, and more!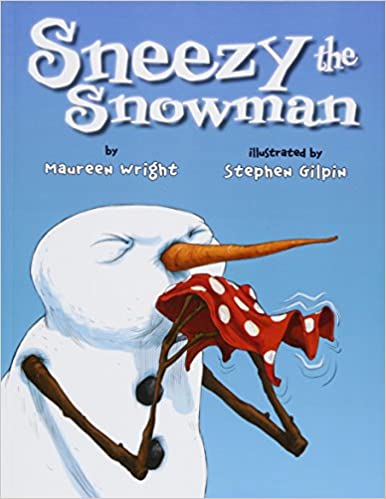 Winter StoryWalk® 1/14/21-3/21/21
Starts at the library and includes various business windows on and near Main Street!
Cambridge Area Needs Survey for residents 55 years or older has been extended to 1/18/2021.  https://forms.gle/JaE6ZaYr5uKw4ikp9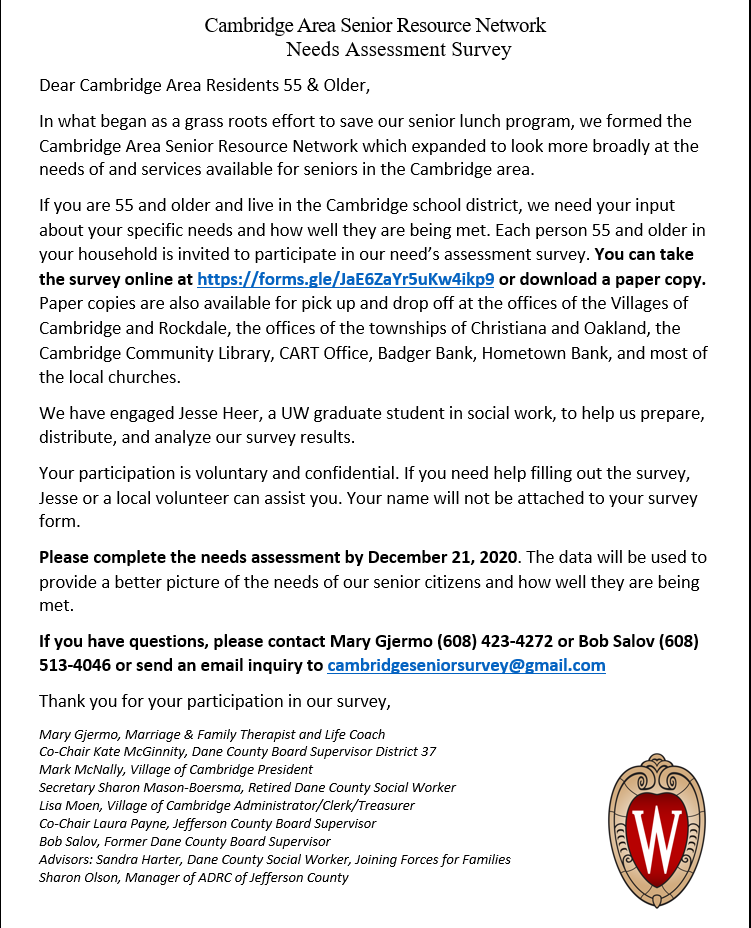 Story Breaks
 Gingerbread Theme https://www.facebook.com/camlibrary/videos/2527498377549858
Thankful Theme   https://www.facebook.com/camlibrary/videos/845676242929896
Autumn Theme     https://www.facebook.com/camlibrary/videos/521219915428172
Squirrel Theme    https://www.facebook.com/camlibrary/videos/2423141427987716
Apple/Pumpkin Theme  https://www.facebook.com/camlibrary/videos/1485041651679470
 Fall Leaves Theme        https://www.facebook.com/camlibrary/videos/406726200725763
Bird Theme       https://www.facebook.com/camlibrary/videos/9521070786317
COVID UPDATES 10/23/2020
Our drive through window service is open to pick up materials.   We will continue to help you with this over the phone, 423-3900 or via e-mail to dir@cambridgelib.org if you need help.  Please remember that materials on your record that say they are "in transit" once they arrive here they have to be quarantined.
Please bring your faxes, copies, and print requests to the drive thru window and we will be glad to help you.
Our WI-FI patio and free WI-FI capabilities will continue to be open. Need a computer? Ask about borrowing our laptop to use outside the library.
Please call 423-3900 to set-up an appointment to use the laptop. There will be a one hour limit in your car, in the parking lot.
Available for immediate check-out will be high-demand and new materials in a variety of formats.  Pre-selected Grab Bag style stacks of picture books, juvenile fiction and non-fiction and YA materials will be available to check
No charge for rental items at this time.
Returning to normal 28, 14, and 7 day due dates. No fines will be charged for late items due to having to be quarantined.
Precautionary measures being taken currently
Due to the resurgence of the virus in our area, we have gone back to drive-up services only.
We will be consistently reviewing our procedures and how things are working, and may make adjustments as needed.
WE THANK YOU FOR YOUR BUSINESS!
OverDrive Read is a browser-based eBook reader that works on most computers, tablets, and mobile devices running web browsers with HTML5 support.  This is available for Dane County residents with a Cambridge Community Library card. For Jefferson County residents, that hold a Cambridge Community Library card, please call the Library at 608-423-3900 for more information.
**************************************************************************************
Winter Emergency Opening and Closing Guidelines
The Cambridge Library determines their winter emergency opening and closing procedures by using the Cambridge School District's determination as a guide.

It is highly recommended that on any days the school is affected by the weather the library may be also. Please call the Cambridge Community Library (423-3900) before venturing out to the library whenever the school district is closed or opening late due to road conditions.

Safety first – if the weather man has highly suggested staying off the roads, please call to see if we are open.

If it is a story hour day (Wednesday or Friday) and there is no school or the buses run late, there will be no story time.

Your Library Staff thanks you for understanding the need to possibly open later or close early due to inclement weather.
LINKcat Mobile app
The LINKcat Mobile app vendor, LibraryThing, has added several fixes to the app that are designed to address the problems with accessing and using the app. If patrons continue to experience any issues with the app, have the patron clear the settings in the app (instructions below). The patron may have followed these steps in the past, but please ask them to run through clearing the settings one more time:
1. In the upper right hand corner, click the "hamburger" (either three lines or three dots) and select "Clear all settings."
2. Then click the "Clear" button to set the app back to "factory settings."
3. Then have the patron log into their account on the app again.
If patrons continue to experience problems with the LINKcat Mobile app, please have them report the following information:
1. Type of device used (ex. iPhone 7, Samsung Galaxy s8).
2. Operating system, including version (ex. iOS 13.3, Android 8.1.0).
3. Detailed description of the problem: For example, is the patron getting an error message? If so, what is the error message and when was it received (approximate time and date)? When does the patron get the error message (ex. when logging in, searching, etc.)? If there's no error message, what happens to prevent the patron from using the app? 
Patrons please note: You can go to www.linkcat.info or www.cambridgelib.org in a browser on your mobile device instead of using the mobile app. You may prefer this option.
Outside book return is open.
Temporary Drive-Up Transaction Window Hours
Monday 11:00am-4:00pm
Tuesday 11:00am-4:00pm
Wednesday 11:00am-4:00pm
Thursday 3:00pm-7:30pm
Friday 11:00am-4:00pm
-Dates and times subject to change.
-Drive-up return is open 24 hours.