Drive-thru and express service inside at this time.
MTWF 10-4:30, Thursday 1-7:30, and Saturday 9:30-12 (drive-thru only)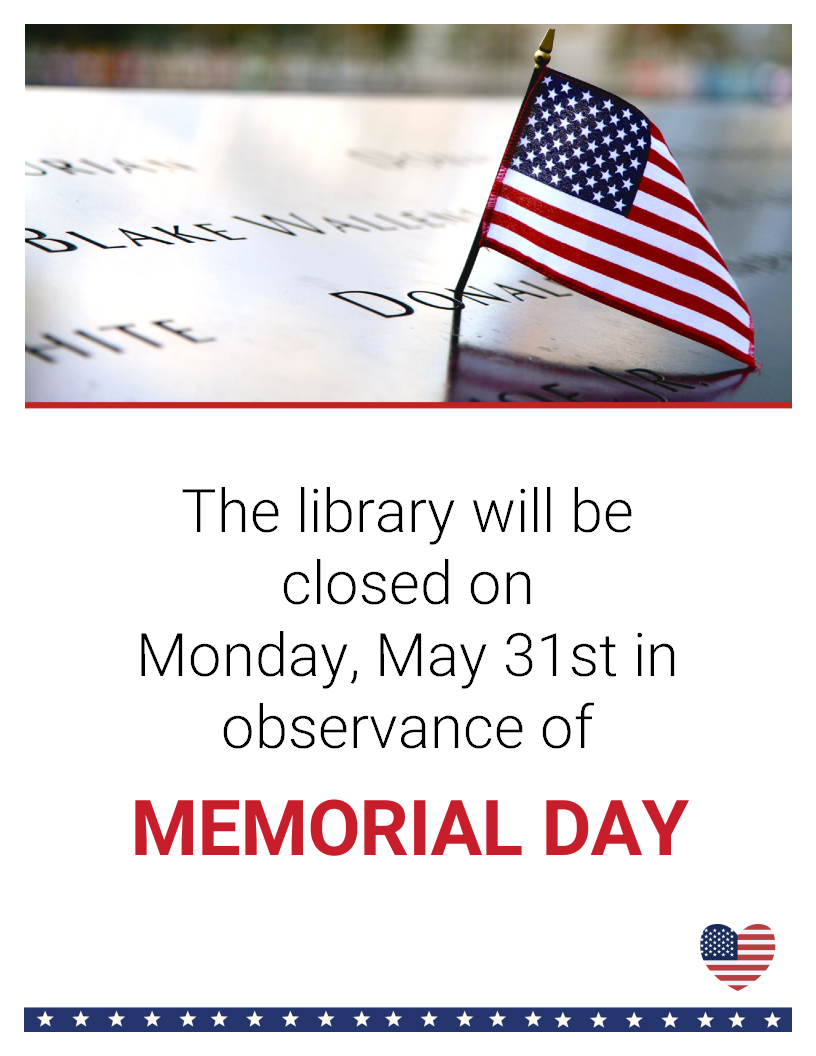 Need health insurance? The ACA has you covered!
COVID-19 Special Enrollment Period is February 15–August 15, 2021  healthcare.gov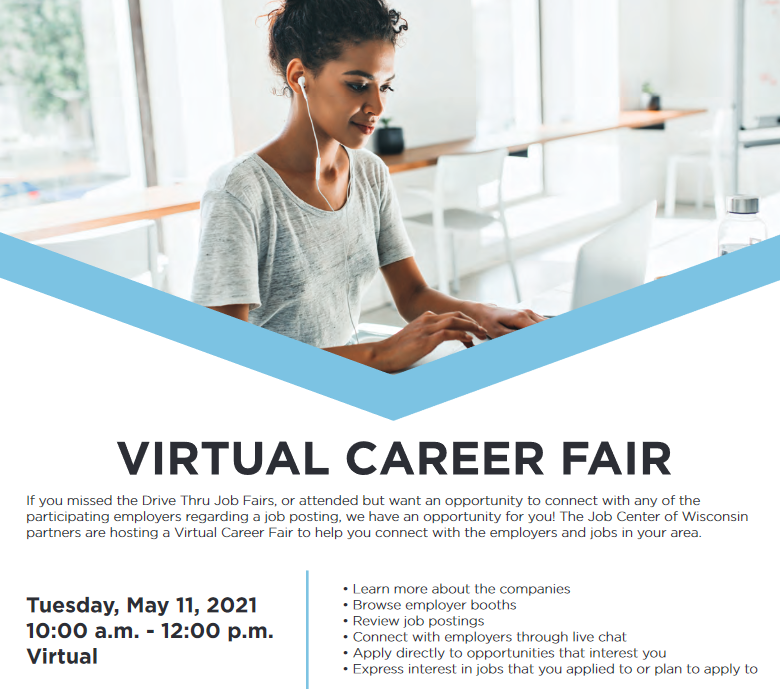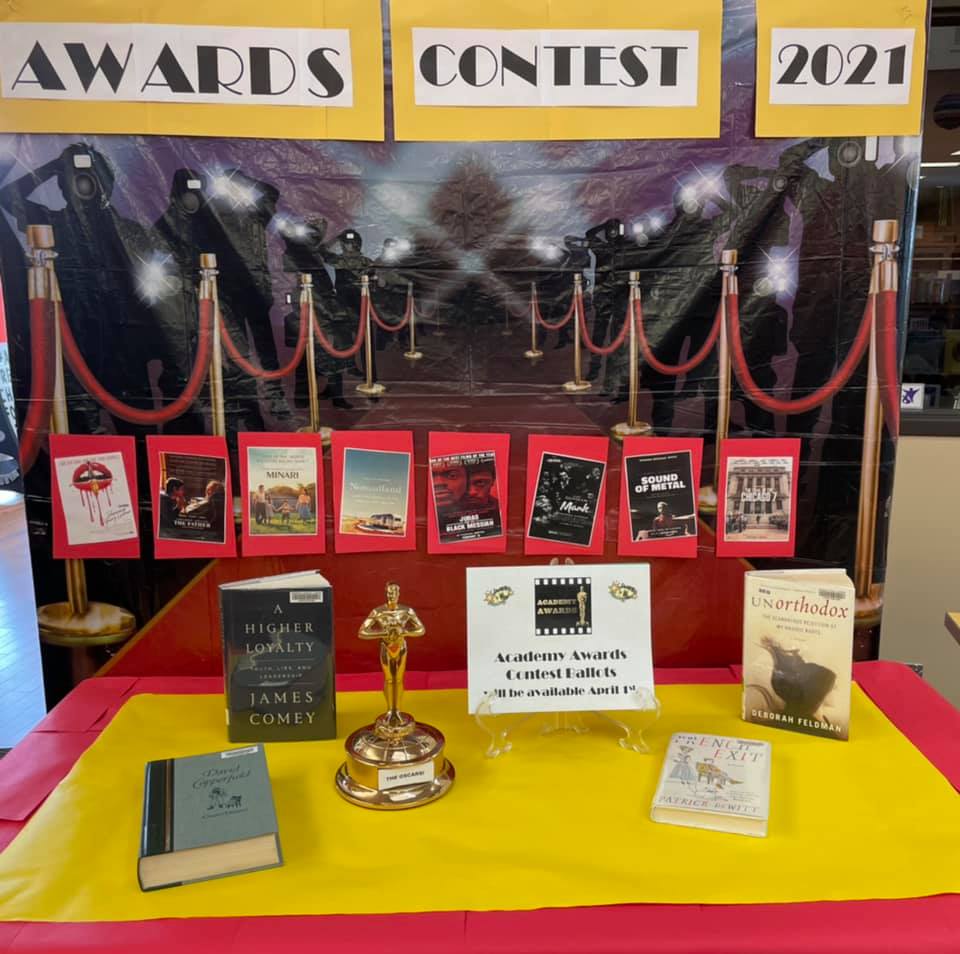 Congratulations!
1st Place-Bev
2nd Place-Lisa
3rd Places-Ginny, Kathy, Leanna, and Patty
Thanks to all who participated!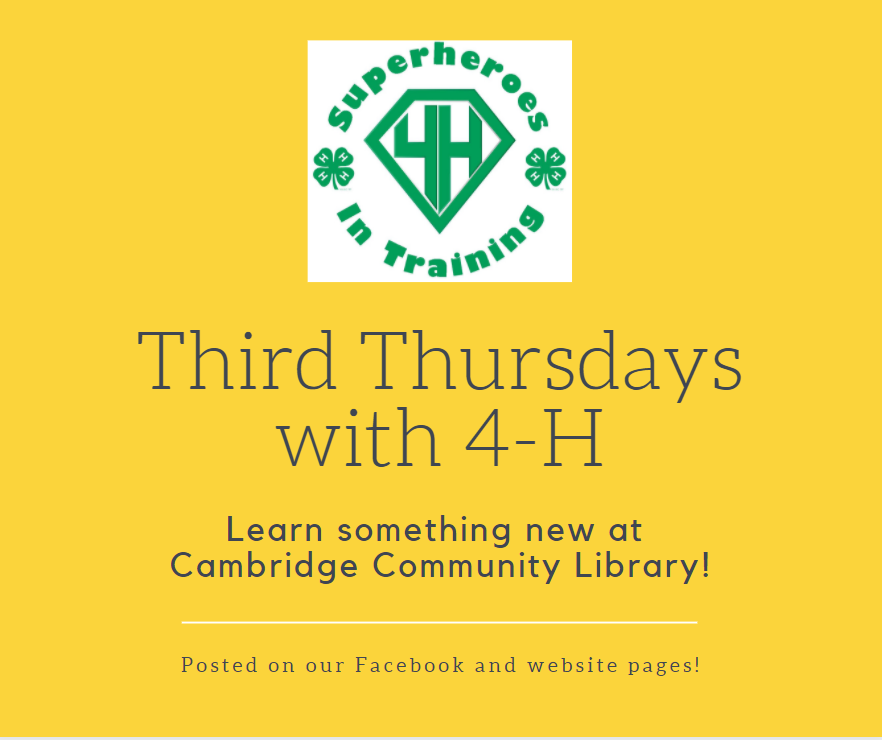 1/21/21 Tanner H.-Bike Repair (Front Chain Ring Demo  Facebook)
2/18/21 Adela A.-LED Light Up Bracelet Demo
Step 1 https://www.facebook.com/camlibrary/videos/430159721646774
3/18/21 Greta K.-Goats-Goat's Milk Soap Kits Facebook
4/22/21(4th Thursday) Sam L.-Knot tying/Paracord Bracelet Kits
Each month will be a different theme such as STEM, arts and crafts, animal care, and more!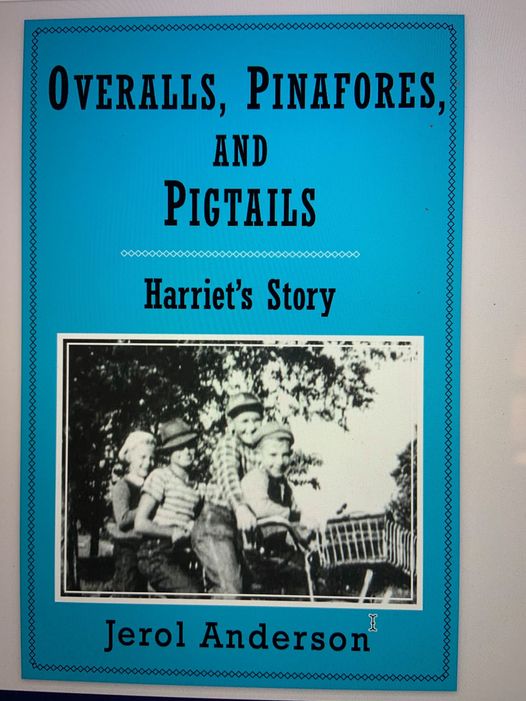 Listen to local author, Jerol Anderson, talk about her new book this spring. Plus, meet the star of the book, Harriet! Date to be announced.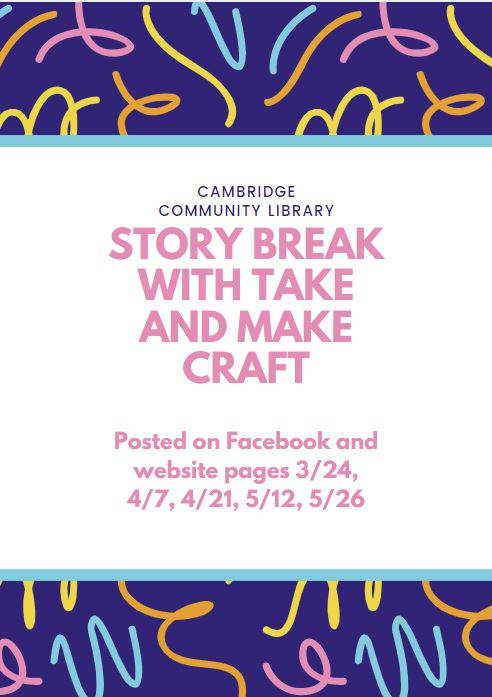 Spring Theme Facebook
Worm Theme https://www.facebook.com/camlibrary/videos/5225800737494885
Ladybug Theme https://www.facebook.com/camlibrary/videos/515261006152249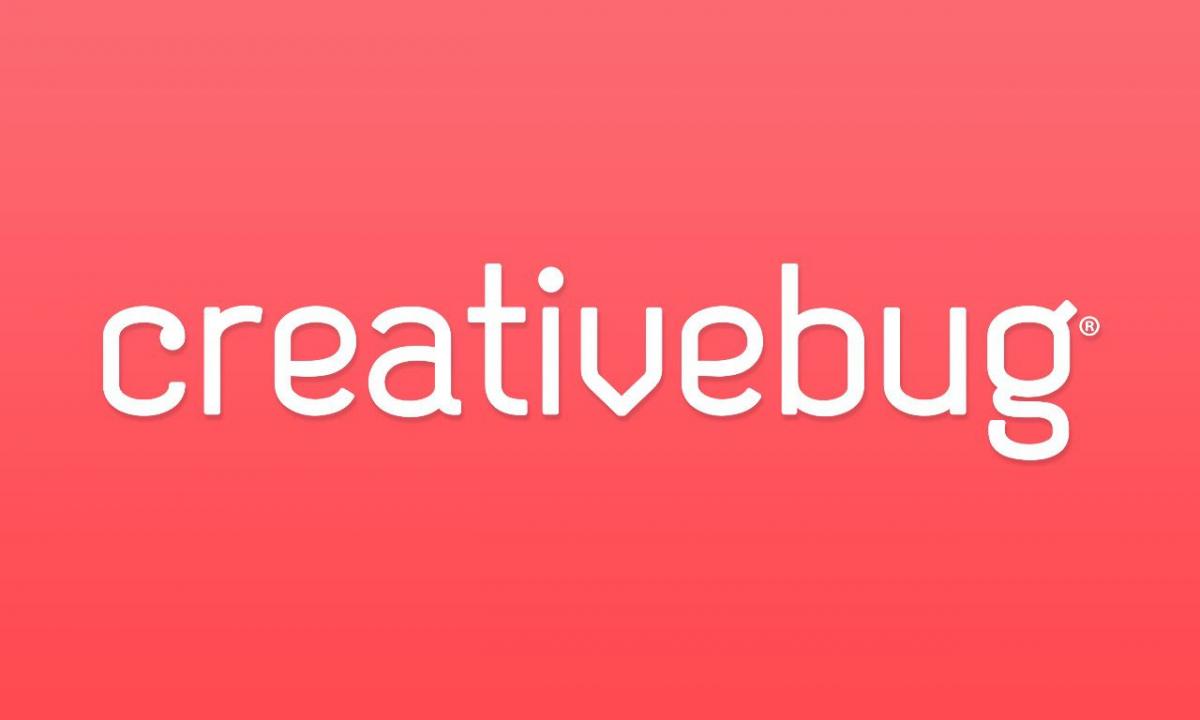 Free with your library card!
https://www.creativebug.com/lib/cambridgelib 
Unlimited access to thousands of online art & craft video classes
New classes released every day from recognized creative experts
Downloadable patterns, templates and recipes
Access to Creativebug community galleries and forums
CAMBRIDGE COMMUNITY LIBRARY – COVID 19 UPDATE
• Limited Hours. Mon, Tues, Wed, Fri 10am to 4:30pm; Thurs 1:00pm-7:30pm; Saturday 9:30-12:00 (drive-thru only)
• Reopening Dates: Beginning Monday, February 1, 2021 we are re-opening our doors for limited inside services.
• Health & Safety: Masks Required – hand sanitizer available – 6 feet distancing.
• Holds & Requested Materials. We encourage patrons to still use our drive-thru window to pick up their holds and other materials whenever possible.
• Copies, Prints, Faxes. We encourage patrons to use our drive-thru window for these services. You may email your documents to dir@cambridgelib.org in advance and we will reply when completed.
HOW TO USE A LIBRARY COMPUTER & FREE WIFI:
• Make a Reservation. Call or email us to make a reservation to use one of our computers.
• Limited Use. There is a one-hour limit and limited computers available for use.
• WiFi Patio 24/7. Our WiFi patio and free WiFi capabilities outside are available. No password needed.
WHEN TO COME INTO OUR LIBRARY:
• Computer Use. If you need to use a computer or internet, we have limited computers available with a reservation.
• Express Browsing Materials. Available for immediate check-out are high-demand and new materials in a variety of formats. Pre-selected grab bag style stacks of picture books, juvenile fiction and non-fiction and YA materials are available. You can also call ahead to request any of these materials and pick up at our drive-thru window.
• Newspaper Reading and Quiet Reading Room. You may use this room for small meetings or quiet reading (limited time).
CREATIVEBUG!--FREE & NEW WITH YOUR LIBRARY CARD
• Unlimited access to thousands of online art & video classes
• Unlimited classes released every day from recognized creative experts
• Downloadable patterns, templates and recipes
• Accesss to Creativebug community galleries and forums
ONGOING SPECIAL EVENTS--Information on these events is available at the library and on our website and Facebook:
3rd Thursday Events – January-June – featuring Cambridge 4-H Club with informative demonstrations by the Cambridge 4-H Club members. Limited Take and Make Kits available for some of these programs Watch at your convenience. These programs will be available on our website and Facebook.
• February - Circuitry Bracelets
• April - Knots/Paracord Bracelets
Ms. Patty's Story Breaks will be posted on these Wednesdays.
Limited Take and Make Bags Available
* April 7-Worms
*April 21-Ladybugs
*May 12-Boats
*May 26-Beach
Thank you for your understanding throughout 2020. Our hope for 2021 is to slowly inch forward into being the full-service library pre-COVID that you know and love.
WE THANK YOU FOR YOUR BUSINESS!
OverDrive Read is a browser-based eBook reader that works on most computers, tablets, and mobile devices running web browsers with HTML5 support.  This is available for Dane County residents with a Cambridge Community Library card. For Jefferson County residents, that hold a Cambridge Community Library card, please call the Library at 608-423-3900 for more information.
**************************************************************************************
Winter Emergency Opening and Closing Guidelines
The Cambridge Library determines their winter emergency opening and closing procedures by using the Cambridge School District's determination as a guide.

It is highly recommended that on any days the school is affected by the weather the library may be also. Please call the Cambridge Community Library (423-3900) before venturing out to the library whenever the school district is closed or opening late due to road conditions.

Safety first – if the weather man has highly suggested staying off the roads, please call to see if we are open.

If it is a story hour day (Wednesday or Friday) and there is no school or the buses run late, there will be no story time.

Your Library Staff thanks you for understanding the need to possibly open later or close early due to inclement weather.
LINKcat Mobile app
The LINKcat Mobile app vendor, LibraryThing, has added several fixes to the app that are designed to address the problems with accessing and using the app. If patrons continue to experience any issues with the app, have the patron clear the settings in the app (instructions below). The patron may have followed these steps in the past, but please ask them to run through clearing the settings one more time:
1. In the upper right hand corner, click the "hamburger" (either three lines or three dots) and select "Clear all settings."
2. Then click the "Clear" button to set the app back to "factory settings."
3. Then have the patron log into their account on the app again.
If patrons continue to experience problems with the LINKcat Mobile app, please have them report the following information:
1. Type of device used (ex. iPhone 7, Samsung Galaxy s8).
2. Operating system, including version (ex. iOS 13.3, Android 8.1.0).
3. Detailed description of the problem: For example, is the patron getting an error message? If so, what is the error message and when was it received (approximate time and date)? When does the patron get the error message (ex. when logging in, searching, etc.)? If there's no error message, what happens to prevent the patron from using the app? 
Patrons please note: You can go to www.linkcat.info or www.cambridgelib.org in a browser on your mobile device instead of using the mobile app. You may prefer this option.
Outside book return is open.